One popular military transport aircraft, the C-130, is a four-engine turboprop plane designed and built by Lockheed.  One of the key benefits of the C-130 is its ability to use unprepared runways for takeoffs and landings, making it suitable for a variety of military uses.  In service since the 1950s in the United States, this plane spotlight on the C-130 provides history, descriptions and information about this popular military transport aircraft.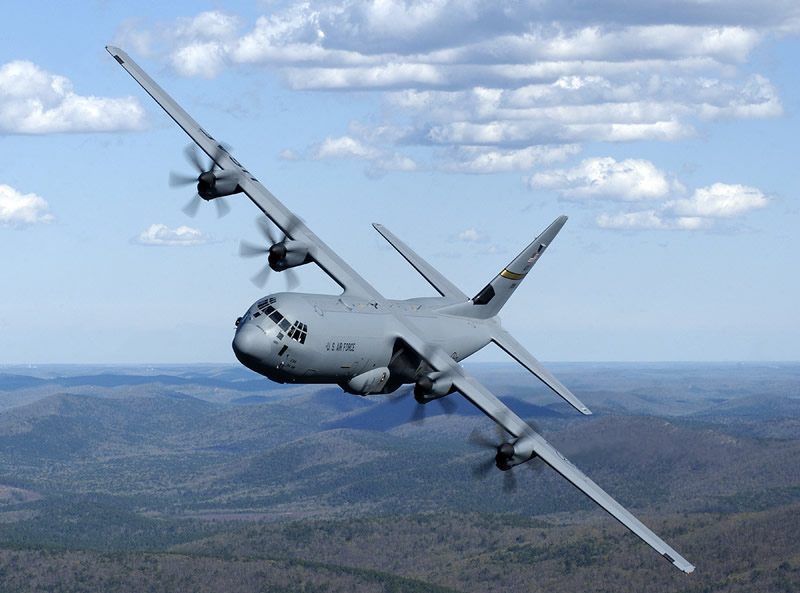 History of the C-130 
When the Korean War began in 1950, World War II-era piston-engine transport planes were found to be inadequate for modern warfare, prompting the U.S. Air Force to request designs from several aircraft manufacturers for a military transport aircraft that held more passengers, had a larger cargo area, and offered a loading ramp from the rear of the fuselage.  The key feature of the design was the T56 turboprop, first developed specifically for the C-130.  Kelly Johnson, the chief research engineer at Lockheed, did not like the low-speed, unarmed aircraft, stating that the design would "destroy the Lockheed Company." However, the company won the contract over Boeing, Douglas, Fairchild, Martin, Chase Aircraft, North American, Northrop, and Airlifts in 1951.
Operational History
The first C-130s were delivered in 1956 to the 463d Troop Carrier Wing at Ardmore Air Force Base in Oklahoma, as well as the 314th Troop Carrier Wing at Stewart Air Force Base in Tennessee.  The military transport aircraft began its military career doing intelligence work, with the first being shot down over Armenia in 1958.  A C-130 still holds the record for the largest and heaviest aircraft to ever land on an aircraft carrier, a record that has stood since 1963.  Lt. James H. Flatley III of the U.S. Navy made 29 touch-and-go, 21 unarrested full-stop landings, and 21 unassisted take-offs on the USS Florestal to set the record.  Lt. Flatley earned the Distinguished Flying Cross for his efforts.  In addition, the C-130 was instrumental in reconnaissance/strike missions during the Vietnam War.
Refueling Modification
In 1958, the U.S. Marine Corps procured C-130s with a removable 3,600-gallon stainless steel fuel tank that is carried inside the cargo compartment.  Hoses and fuel nozzles allow the transfer of up to 300 gallons of fuel per minute to two aircraft simultaneously, creating a military transport aircraft that provides rapid cycle times of multiple-receiver aircraft formations.
The C-130 is an important military transport aircraft, providing fueling services, reconnaissance and air strike assistance to troops throughout the world.
Visit us at www.covingtonaircraft.com for more information about radial and turbine engine overhauls, maintenance, and repair.  You can also find us on Facebook and Linkedin.